Here we are. It's Friday night, and I'm thankful. The weekend is here, which means I've survived yet another week. My plans for this weekend include: a whole lot of nothing, catching up on little projects/tasks I've been meaning to do, coffee with a friend (and helping plan her daughter's 2nd birthday party!), a wedding on Saturday night, and a Pampered Chef party on Sunday at Chelsea's house. Earlier, Chelsea emailed me and said this:
Speaking of, you need to know how to get to my house. You can google it but I'm going to give you directions BECAUSE I'M BETTER THAN GOOGLE.
Internet, that's why Chelsea & I are friends. Because I work in SEO, and she is better than Google. Match made in heaven.
Fall weather is officially here; for the last few days I've been wearing a cardigan and drinking hot tea without feeling like my insides are going to spontaneously burst into flames. I even ordered a vanilla latte the other day, rather than my usual crack choice, iced coffee. What is it about fall that makes me want to sprinkle cinnamon on EVERYTHING? Hot chocolate? Check. Oatmeal? Check. Pepperoni pizza? Maybe not.
It's not yet cold enough to wear my new boots, but when that happens, I will post some pictures along with a hilarious video Cio took the night I bought them. Imagine me, waddling through Ross (Dress For Less!) wearing boots that are hooked together with a piece of elastic. And yes, it's every bit as awkward as it sounds.
Last night, one of Michael's friends from high school came over for dinner. It was my first time to meet him, so there were all the typical questions. Of course the topic of my blog came up, and since he really didn't know a lot about blogging, Michael began to try and explain it to him. Um, yeah. The blind leading the blind. It's so adorable to hear Michael talk about my blog though. Even though he might not "get it," he understands how much it means to me. You really can't ask for much more. As the guy was leaving, he inquired rather hopefully, "Am I going to be in your blog??" YOU NEVER KNOW, DUDE. You never know.
Also. I have been having some weird dreams lately. Earlier today I tweeted:
What does it mean if you dream that you're Tyra's personal assistant?
My favorite response was from Erin:
Probably that you're a freakshow. I mean that in an incredibly loving way.
Seriously though, y'all. What does it mean? I mean, there I was, driving around in a car with Tyra, and she is all, "Can you write up this thing for my website, and mail these Top Model pictures, and can we stop by the dry cleaners?" I think I've been thinking about ANTM far too much.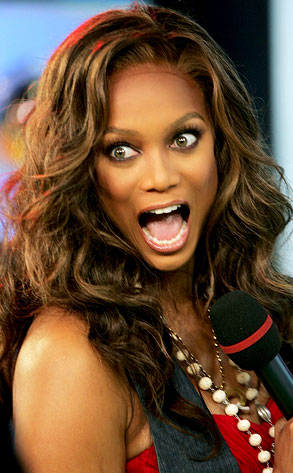 [via]
Speaking of CRAZY EVENTS, last night, Pancho woke me up at 1:30am acting like he had to pee. I groggily got out of bed, and took him outside to do his thing. We came back inside and as we were walking back to the bedroom he STOPPED right in the middle of the living room. Then he vomited. It was just water (TMI?) but still, I was not thrilled. Then he paused again. THEN THAT DOG PUKED UP THE BIGGEST PILE OF REGURGITATED DOG FOOD I HAVE EVER SEEN. Oh, but he wasn't done. He started gagging AGAIN, and puked up a SECOND PILE OF DOG FOOD almost larger than the first. OK. He is 15 pounds. How he had THREE ROUNDS OF PUKE in him at ONE THIRTY AM is beyond me. So guess what I spent the next 15 minutes doing? Yeah, scrubbing puke out of my carpet. The whole time, I kept telling myself, "Lauren, this is what it's like to have kids. Just relax. You'll have to do this all the time when you have kids." PROBABLY WHY I DON'T HAVE KIDS. Needless to say, I was extremely grouchy this morning.
OK! Enough puke talk! Time for something a little more fun.
Something Old | Something New
I didn't manage to take any "whole outfit" pictures this week (mostly because I dressed really boring and/or sloppy and wore the same cardigan like 3 times), but I did try something new with my hair. Never in my life have I been able to french braid, but for whatever reason, not too long ago, I thought to myself, "Let me just TRY" and WHAT DO YOU KNOW? I am still terrible at it. The pieces are never same "thickness" and I can't get it to look consistent. I did like how this turned out though – it's as though it almost doesn't matter that it's a complete mess. After I finished the braid, I took the end and tucked it under, and secured the whole thing with about a thousand bobby pins, then sprayed it with half a can of hairspray (ozone layer? what?). Kind of a fun way to put your hair up on a casual day.
Confession time. I have an infatuation with keys. I have some giant wooden ones hanging over my front door, a set of antique-looking ones on my key hooks by the front door, and am obsessed with lock-and-key necklaces, especially when the lock is heart-shaped. I found these keys at Forever 21 (the same day I bought my leggings) and had to have them. Michael thinks they're really gaudy (I don't think he likes the two-tone gold & silver), but what's wrong with a little gaudy every now and then? I love wearing them with a super simple T-shirt and cardigan.
HAPPY WEEKEND EVERYONE! Here's to good friends, time to relax, and hopes of pukeless nights.
xo